The Zoom H4n—Don't Leave Home Without It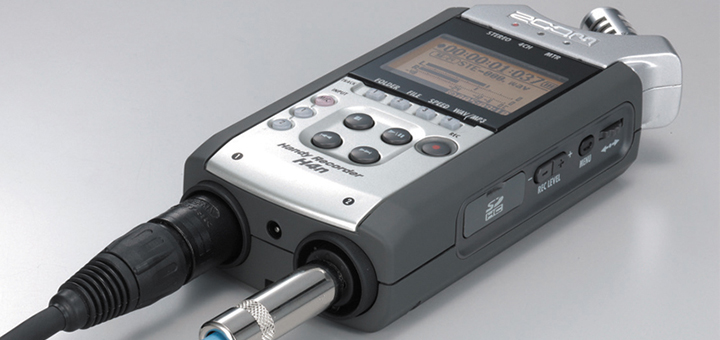 I've tried lots of ways to get good sound in the field. My iPhone is a great tool for seizing on an unexpected opportunity, whether that's ambient sound or hit-and-run interview. But as a day in, day out professional tool it leaves a lot to be desired because of its
limited choices for microphones;
always on AGC (although some programs will let you disable this);
screen timeout that seems to know when going dark will cause me the most annoyance (unless I disable it first, and then I guarantee you I'll forget to re-enable it);
poor monitoring options during recording;
dearth of apps that hit the sweet spot for me—full featured and easy to use.
Zoom H4n—My Constant Companion
The Zoom H4n*, which I've been using for about three years now, is a pro field recorder that's almost always with me. I'll often carry it in my car when I'm out and about, just in case I need to do a pro recording.
Professional Quality in a Hand-Held Package
Here are some of the great features than have made this my workhorse for all these years:
true stereo built-in mic with selectable 90- or 120-degree pickup pattern;
two combo XLR/TRS (1/4-inch) jacks for external mics or line inputs;
phantom power for condenser mics;
stereo, mono and 4-track recording;
wav, mp3 formats with variable sample rates and multiple bit depths;
one-hand operation;
SD card recording;
on/off AGC;
built-in, commonly-used audio processing effects;
hand held (unless you're 12 and have very small hands);
configurable as a USB recording interface for a Mac or PC (think MBox or the equivalent);
input volume, headphone/line output volume controls;
stamina mode for increased battery life;
built-in reference speaker;
great sound quality.
By the way, don't dismiss the built-in speaker. You can save a few dollars on recorders without them, but I've had so many instances in which I wanted to listen to a clip or two after I've put my gear away that, given the choice, I'd spend the extra dollars in a heartbeat.
In the Field
My basic field package is the H4n, my AT8035 shotgun mic, a five-foot mic cable, and a pair of Sennheiser HD202 earphones. I've gotten broadcast quality recordings under circumstances that seemed so acoustically dreadful I seriously considered canceling the interview and going home. Whenever I'm out on a recording gig, I record two files of ambient sound. One using the AT8035, for covering edits in my interview. The other using the H4n's stereo mic. I archive that file in my SFX library. You never know when you're going to need some ambient sound for a recording, and this is easier than searching on-line effects libraries. Besides, it's an audio scrapbook of my travels. Some travelers take pictures. I record sounds. Sue me.
Around the House
I use my H4n to record tracks for spots and podcast segments when all I need to record is my voice. Sliding the H4n's power switch to on is more convenient than firing up the recording studio and DAW. When I'm done, I pop out the SD card, slip it into my computer, and upload the file to Dropbox where I let it sit, safely, until it's time for editing.
Once, I had to record a track when my studio was under repair. I grabbed my H4n and a mic, found myself a quiet spot in the bedroom closet and got the recording done.
One thing I will tell you. The H4n looks as professional as it sounds. That's a good thing. When I pull it out of my equipment bag I get looks of both surprise and approval from my interviewees. They immediately recognize I'm not some kid with a Toys 'R Us voice recorder (and gray hair). I'm a working professional. That goes a long way toward putting interviewees at ease and making them comfortable enough to open to you. They know you know what you're doing, and that you're not going to make them sound like fools or misrepresent their positions.
I've owned my H4n thorough several price drops, so the $200 price I saw on Amazon for either the H4n or H4nSP is a real bargain as far as I'm concerned. If you want to hear how this unit sounds in real life, listen to my new podcast, Out Of My Mind, which premieres on July 4th. All the non-telephone interviews were recorded with the setup I described earlier.
Okay, it's your turn. Did you find this review helpful? Do you have an H4n and can share some tips or reviews of your own? Do you use another portable digital recorder that has given you good results? Share your thoughts, ideas and comments with the rest of us. Keeping secrets is for Google, Apple and the CIA. We're the podcasting community because we care and share.
*In the last two weeks the H4n was discontinued in favor of the H4nSP. This review is for the H4n because I haven't field-tested the SP yet. As far as I can tell, the SP contains the same guts as the H4n but in a different enclosure.