A Christmas Shepherd (Ep. 064)
Podcast (out-of-my-mind): Download
Subscribe and never miss an episode. Apple Podcasts | Android | Email | Google Podcasts | RSS
This Christmas story of a shepherd has nothing to do with religion and everything to do with the raconteur, radio host and improvisational storyteller Jean Shepherd. If you know Shepherd at all it might be as the voice of the adult Ralph Parker in the 1983 film A Christmas Story. If, like me, you grew up within the sound of New York's WOR radio you might know Shepherd as that guy who talked for hours, without notes, spinning stories of a Midwest childhood and big-city angst.
Shepherd's story, and the events leading up to A Christmas Story, are far more complex, and human, than can be dispatched in a few minutes. So, Out Of My Mindpodcast host Jay Douglas went to Long Island to interview two men with intimate knowledge of Shepherd and his life —- author, blogger and Shepherd historian Eugene Bergmann, whose book Excelsior, You Fathead; The Art and Enigma of Jean Shepherd is the closest we'll ever get to a look inside Shepherd the man and the artist, and Tom Lipscomb, media executive, publisher, editor and playwright, who published a number of Jean Shepherd's books.
In this episode of the Out Of My Mind podcast, host Jay Douglas got Eugene and Tom together for a lively discussion of Shepherd, his art, his frustrations and his battle with his own ego over A Christmas Story.
Eugene B. Bergmann began listening to Jean Shepherd radio shows in 1956. His book, Excelsior, You Fathead! The Art and Enigma of Jean Shepherd, a detailed description and appreciation of Shepherd's creative world, was published in 2005. His transcribed and edited selection of Shepherd's Army stories never before in print, Shep's Army: Bummers, Blisters, And Boondoggles, was published in 2013. He has also written the commentaries for sets of Shepherd's syndicated radio shows and several published articles about his work. Bergmann continues such activities with his blog, www.shepquest.wordpress.com, and has recently been adding to it, Artsy Fartsy, illustrated essays on his wide-ranging adventures in the arts. He and his family live on Long Island, N. Y.
Thomas H. Lipscomb is a media executive/CEO; publisher of numerous bestsellers; editor; writer. He was the founder of Times Books at the New York Times Company. As a serial entrepreneur he was the founder and CEO of two high tech public companies (based upon his patents in digital rights management). Tom founded The Center for the Digital Future, now the Annenberg Center at USC. A former visiting professor and lecturer at numerous universities, he is the author of articles in dozens of publications from the New York Times, Washington Post, and Wall Street Journal, to Harper's and the Readers Digest. Tom is a prize-winning playwright and is currently writing a nonfiction book on what Rebecca West has called "the greatest mystery of the Second World War."
Contact the Show
You're a valuable part of the show, and we're always interested in what you have to say. Here's how to send us your comments, as well as suggestions for guests or topics:
Email: jdouglas@thetheaterofyourmind.com
Telephone: 323-465-3322
On the Web: Contact Out Of My Mind
Write: Out Of My Mind | The Theater of Your Mind, Inc.| 2215 Fern Dell Place | Los Angeles, California 90068
Support Your Favorite Podcast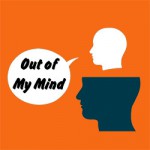 Podcasts live or die on downloads. They're the Nielsen ratings of the business. The more downloads we get the better our chances of attracting sponsors. And sponsors mean we'll be able to research more little-known stories about well-known stuff. Oh, and we'll also be able to give way decent contest prizes, not to mention thank you gifts for such things as using your comments on the air. So, if you enjoy the show, here are some ways you can help us right now:
tell your friends about the show, ask them to subscribe and listen and to tell their friends to subscribe and listen.
The economics of podcasting require shows like Out Of My Mind to have at least 200 downloads every day to attract a sponsor, and I can tell you we're not even close. But with your help we will be. Thanks for supporting the launch of our little program and thanks for helping us grow.