The AT2005USB—A Popular Podcasting Microphone Goes Pro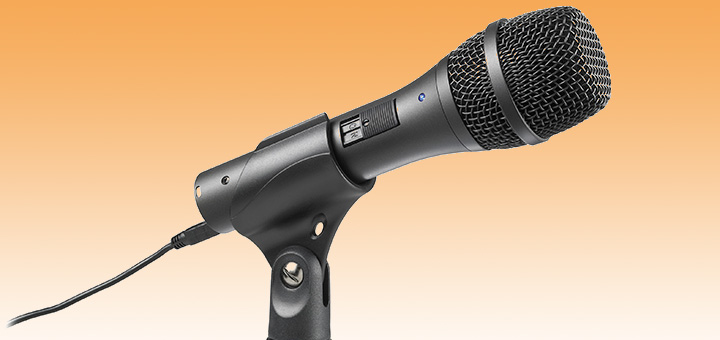 The ATR2100-USB microphone is the darling of the podcasting set, and for good reason. It sounds great. It's compact. It's flexible enough to be at home in your studio or go bag. So when I saw the AT2005USB mic at the NAB I did a double take. It looked just like the ATR2100-USB. It's specs were the same. I flagged down an Audio-Technica rep and asked what was going on.
Going Pro
It turns out that the AT2005USB is the pro version of the prosumer ATR2100-USB. But pro version doesn't mean it's saddled with lots of unneeded features that pump up the price tag. The street price of both mics are about the same. The different part numbers are more of a marketing distinction that identifies which marketing channel sells the mic. The only meaningful differences are the color of gray on the AT2005USB barrel, its slightly different grill and its more robust on/off switch.
What drew me to the AT2005USB in the first place was pro. Actually it was pro, coupled with the word robust. I'd been looking for a simple way to take my show on the road. Producing a podcast, or even a podcast segment, away from my studio has been a challenge. Tablet software notwithstanding, I typically recorded my audio on a Zoom H4N recorder and edited on my netbook. It was far from ideal.
Then, I discovered bossjock studio a $10 iPad/iPhone application that fit my needs. I'll write more about it in another post, but the nickel tour is that bossjock studio will accept a USB microphone as input via the iOS Camera Connection Kit. All I have to do is find a quiet place to record and I can do my announcements, promos, intros and closes, voice overs, with just a USB mic and my iPad (or iPhone). Since I like the word robust attached to the products I buy, I opted for the AT2005USB.
My Take
I've had the mic for a six weeks now and I've put it through its paces. I am glad to say Audio-Technica has delivered full value for the money. With its dual USB/XLR connections I've been able to test the mic on the road and in my studio. The AT2005USB is clean- and crisp-sounding in both places. I found its cardioid pattern not quite as sharp as some other cardioid mics I've used, but then those mics cost four to five times the street price of the AT2005USB. Its sound quality a touch too bright for me, because it brings out the highs while I need a little boost in the lows. Even when I work up close, I need a little low-end boost to give my voice the presence it usually has on my other dynamic mics.
On the other hand, the mic does have more punch than other dynamic mics I've used (all of which were in the $100+ dollar range). My Behringer XENYX X1222USB mixer doesn't quite have enough gain for most dynamics, and while the mixer still struggles with the AT2005USB, I find I can back the pre-amp gain down a bit compared to my other mics. It's not much, but it's enough to drop the noise down appreciably.
AT2005USB—The Bottom Line
All in all, if you're looking for a USB mic with a bright, crisp sound, noise-reducing cardioid pattern and solid construction the AT2005USB is a great choice, whether you're recording in the field or in your studio. It's certainly earned my hearty endorsement. You can find it on Amazon
for about $50 (as of this date). You might do better if you have the time to shop around.
(While I haven't mentioned it, the AT2005USB also comes with a built-in headphone amplifier, jack and volume control. I didn't experiment with this feature because I prefer to monitor my audio at the recording device. But if you're recording directly into your computer, having a monitoring jack right in front of you, rather than on the side or back of your computer, is a definite convenience. So is the handy volume control which, with a twist of the wrist, is easier to adjust than the volume settings on most computers.)
What About You?
Have you had any experience with the AT2005USB mic? If so, please leave a comment and share your thoughts with others in the podcasting community.