His Podcast Will Sleigh You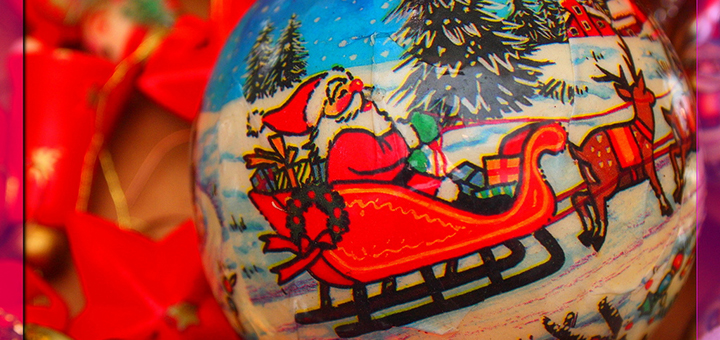 Time magazine columnist Joel Stein once tweeted, "Everyone has a podcast." Maybe not everyone, but surely the Big Guy has one. Of course, with his hectic schedule, not to mention all the commercial demands on his time, aren't you a bit curious (you know you are) about what it takes to put his podcast together? Here's a transcription of Santa reading the credits on his podcast, North Pole Nocturn, that will go online sometime near midnight on Christmas Eve.
SANTA: Well, ho, ho, ho. It's time for Santa to climb into his sleigh and bring joy and happiness to good little girls and boys. The presents are loaded, and Mrs. Claus has packed my snacks of M&Ms and Coca Cola, so I'll be signing off. But first, I want to thank everyone who made this podcast possible. Ho, ho, ho, let me see…
Our podcast theme was written by Joy S. Noel.
The Director of Elf Education is Rita Lot.
Our Elf Supervisors are Hugo Hare and Hugo Dare.
The Director of Quality Control is Stasnot Godunov.
The Manager of the Naughty Department is Nat King Coal.
The Supervisor of Entrances and Exits is Jim Nee.
Nighttime navigation is handled by Rudy Vasiliev, Communist Party member, retired, known in his active days as Rudolph the Red.
Our in-flight communications are managed by Sy and Len T. Knight.
My laugh was recorded in Ho Ho Ho Chi Minh City.
The Vice-President of Human Relations is Lester Benjamin Fitz, known to all the elves as Les Benny Fitz.
"North Pole Nocturn" is a production of Santa and the Missus, Incorporated and is produced by Mary Christmas.
My thanks to Santa for providing the mp3 for transcription. Have a safe trip, old boy. Go easy on the M&Ms.
And you have a Merry Christmas. Enjoy the joy and togetherness at the heart of the holiday. And, if you want to dip into the M&Ms well, just leave some for Santa. His contract requires it.
(The Blog at The Theater of Your Mind will resume with all-new, and certainly much better, material on Tuesday, January 5th, 2016. Have a happy, healthy and prosperous New Year.)
Get Every Blog Post