Out Of My Mind—Episode 26 Show Notes
You're On the Monitor Beacon with Dennis Hart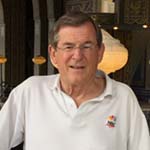 Monitor, NBC Radio's innovative weekend radio service debuted 60 years ago, and ran for 20 years. Forty years after NBC canceled the show, baby boomers still remember Monitor, and the host of entertainers and reporters who anchored three-hour segments of the show, fondly.
Sylvester L. Weaver, better known as Pat, and even better known as Signorny Weavers' father, didn't start out to create a  cultural icon, but that's what he did. Or, as Dennis Hart said in this story, Monitor was the Internet of its day.
Dennis, who literally wrote the book on Monitor, offers insight into the show's history, and adds a few facts that you may find incredible (like one in six Americans listened to Monitor every weekend). Plus, Dennis gets the opportunity to fulfill a life-long dream.
In a show notes extra, here are some audio stories that didn't fit into the show, starting with Pat Weaver's explanation of what Monitor was. This clip is from the start of the first ever hour of Monitor, and it is exactly what listeners heard on their radios 60 years ago.
Here's Dennis's most memorable Monitor moment.
And here's the story of why Dennis wrote the book.
If you want even more Monitor, here's a link to Dennis's Monitor tribute website.